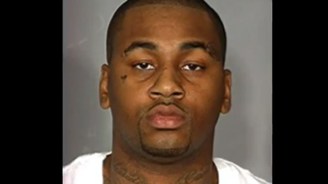 The man accused in the shooting of an Oakland rapper that led to a fiery crash last month on the Las Vegas Strip and a manhunt that ended at a San Fernando Valley residence faces an extradition hearing Monday morning.
Ammar Harris, 26, is scheduled to appear in Los Angeles Superior Court after his arrest Thursday in connection with the Feb. 21 shooting and crash that left three people dead. Harris was allegedly driving a black Range Rover sport utility vehicle when he fired at least five rounds into a Maserati after an argument at a casino valet area.
Twenty-seven-year-old rapper Kenneth Wayne Cherry Jr., aka Kenny Clutch, was driving the Maserati when he was shot near Flamingo and Las Vegas Boulevard. Cherry's vehicle then crashed into a taxicab, which exploded, killing the driver and the 48-year old passenger.
The Strip was closed for about 15 hours during the investigation. The black SUV was located at an apartment complex two days later before Harris'
arrest Thursday
at a North Hollywood apartment.
The hearing Monday will determine whether Harris will be extradited to Nevada to face charges.